S.T. Dupont recently supplemented its collection of famous lighters with a completely new range: the Hooked lighters collection. With an excellent quality / price ratio, the newest addition to the S.T. Dupont lighters category, the Hooked line, is somewhat different in comparison to the characteristic elements with which the brand has accustomed us until now. This might have something to do with their main target right now: millennials.
The S.T. Dupont Hooked lighter – affordable and cool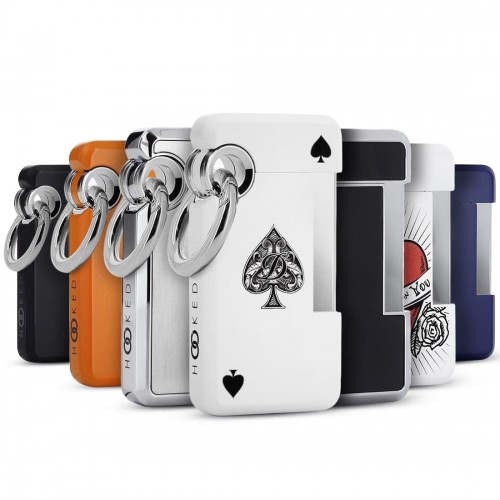 The new S.T. Dupont torch lighter (jetflame) is suitable for any circumstance, and due to its low weight and size, it is suitable for daily use and can fit unnoticeably in any pocket.
The whole idea behind the new collection of lighters S.T. Dupont, Hooked, was to create a line that bases its entire creative concept on two intriguing elements, but which also play slightly ironic roles: the acceptance of our vices as being something that is part of our person and the interest for environmental protection.
The S.T. Dupont lighters collection is cool and it's aimed especially at young people with creative and innovative thinking, who fully enjoy all the possibilities that the digital world offers, through its multitude of products and items.
S.T. Dupont targets a whole new audience with their new lighters collection.
This novel public to whom S.T. Dupont is addressing this new collection of lighters includes:
Young people who are making some big plans for the future, both personal and professional and who are also sports enthusiasts
Young people who put a price on social interaction, both face-to-face and in the online environment, who pay attention to the way they present themselves, creating a sophisticated, office or casual-sport look
Young people who are concerned about the latest developments in the gadget world and cool technology pieces, but who also want keep up with the evolution of several other cool topics
Young people who feel fulfilled when they give something back to society, being guided also by environmental principles that aim to protect Planet Earth
S.T. Dupont also presents a fresh logo for the new Hooked collection
With the change in the design department, S.T. Dupont decided to bring a more contemporary style to the logo, transforming the classic and elegant one we were used to into a fresher one.
The elegance has been kept but the concept is aligned to the new type of target audience. Thus the initials of the brand, "" S "and" T " are now forming the famous #hashtag symbol, an extremely popular icon in the online environment.
A wide range of lighters for various tastes
The new collection of lighters S.T. Dupont Hooked offers you 12 attractive models, suitable for any taste, such as:
S.T. Dupont Hooked Ling-O (gold)
S.T. Dupont Hooked Coc-O (White)
S.T. Dupont Hooked Cosm-O (Red)
S.T. Dupont Hooked Disc-O (Blue)
S.T. Dupont Hooked Inferno-O (Black)
S.T. Dupont Hooked Vasymol-O (Orange)
S.T. Dupont Hooked Valentin-O
S.T. Dupont Hooked Turb-O
S.T. Dupont Hooked Casin-O
S.T. Dupont Hooked Trump-O (sting)
S.T. Dupont Hooked Kamasutr-O
S.T. Dupont Hooked lighters specifications:
The Hooked collection is produced with 60% of recyclable materials
They're built with a blue torch flame which makes them an effortless and the perfect companion for everyday smoker
They all feature a keyring function, making them easy and practical
They offer a large range of colours, which means they are original and impactful design with a twist for the most provocative people
The design is made entirely of lacquer, in either a single shade or two, bearing a pattern or not
They all have chrome finishes
Their capacity is 0.9 g
An S.T. Dupont Hooked lighter has the capacity for 220 lightings, 11 packs of cigarettes